Planning is the key to an effective irrigation system. There is a long "to do" list, but taking care not to skip any steps can ensure that you — and your plants — will enjoy your irrigation system for years to come.

The first step is to go to your local town hall and find out your town's code requirements. You don't want to spend time and money installing your system just to find out that it doesn't conform to code.

Next, take your property's measurements, and record its layout and dimensions. In order to do this, you'll need a 50-foot tape measure, carpenter's level, string, and stakes. After you've taken the measurement, you'll want to draw a diagram to scale. Use graph paper, a drawing compass, and a ruler, and be sure to indicate buildings, plants, and any microclimates. Also, don't forget to mark the locations of any buried utilities.
Decide what kind of system, as well as what kind of sprinkler heads, will best suit your needs. As a general rule of thumb, bubblers water the smallest area at a time, fixed-spray sprinklers water a medium-sized area, and rotor sprinklers provide the largest watering coverage. Drip emitters are part of another type of system where tubes are placed on the ground and slowly water the base of plants.
Next, measure the water system flow capacity and pressure, and plot in the needed sprinklers, using head-to-head coverage. In other words, the spray from each sprinkler head should reach an adjoining head. Define the final irrigation zones based on the available water supply and total flow of the sprinklers.
Finally, plot the locations of irrigation valves, zone valves, and timers. If you feel the need to consult with an irrigation specialist, then by all means, do so. In many cases, the irrigation specialist from whom you buy your system will draw your plan for free.
---
Copyright © Zeducorp.
All rights reserved.
For your convenience, certain links will open in new windows.

Planning a Lawn Sprinkler System
Related Images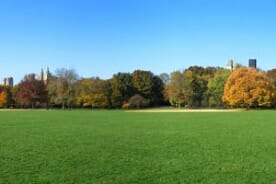 Central Park Lawn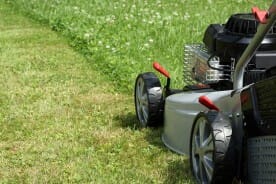 Mowing A Lawn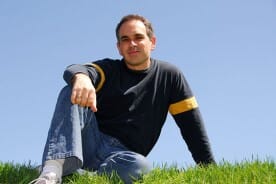 Man Sitting On Lawn